Bionanotech as a sustainable technology for wastewater treatment
May 28 @ 9:00 am

-

12:00 pm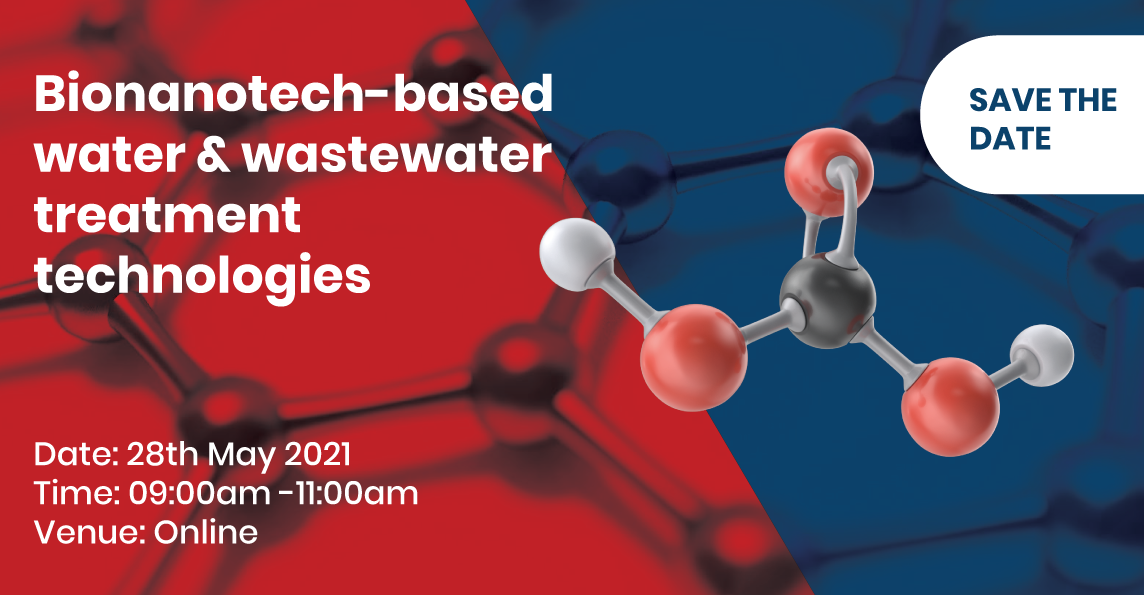 The pollution of freshwater resources by industrial waste effluent and untreated sewerage is a big environmental concern globally. The spill-over effect of water pollution is enormous for several reasons including:
(i) freshwater is already a scarce resource in South Africa (SA) and many other countries due to climate change and rise in consumption; the detrimental effect of polluting an already scarce resource cannot be taken lightly,
(ii) pollution of freshwater directly affects the livelihood and health of humans, animals, and sometimes plant life that depends on freshwater for survival. For example, the discharge of untreated mine wastewater influences the quality and quantity of water in the mine area and in its surroundings and changes hydrological and topographical conditions, sometimes drastically,
(iii) the economy is negatively impacted because many industries need clean water for their production processes and treating or purifying wastewater is a costly process for any organization, whether private or state-owned.
From an industry (e.g., mining industry) perspective, environmental pollution caused by wastewater discharge and emission of greenhouse gases has become a critical component for the sustainability of their businesses. It is crucial to have a strategy that will deal with such problems. A good example is Rainbow Minerals' Climate and Water Sustainability Strategy which includes a policy for water steward that considers the environmental impact and profitability of the Group's mining activities.
The webinar will discuss a bio-nano tech opportunity that can help wastewater-producing industries including mining companies to solve their wastewater problems at an affordable cost by using locally developed environmentally friendly technology/product based on nanoscale biomaterials (bionanomaterials). The webinar will discuss how the technologies can be a cost-effective solution to address problems relating to:
Municipal wastewater treatment
Mine water treatment
Effective management and use of sludge generated from wastewater treatment
Other related applications.